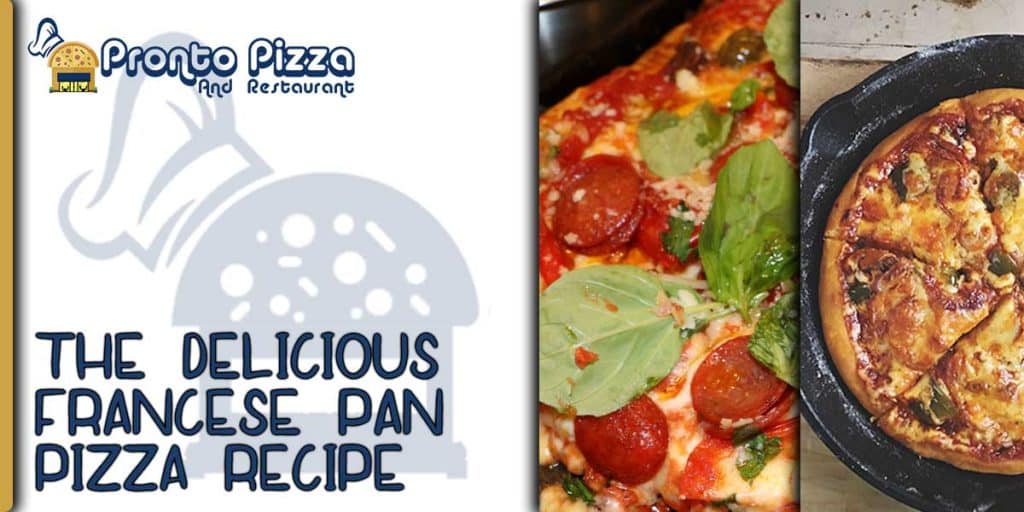 Pronto Pizza And Restaurant is so excited to share this delicious Francese pan pizza recipe with you today! This pizza is one of our family's favorites and it's so easy to make. The best part is, you probably already have all of the ingredients in your pantry. Ready to get started? Let's go!
Ingredients for Francese Pan Pizza Recipe:
First, you will need to gather all of your ingredients. Here is what you'll need:
Pizza dough
Olive oil
Garlic powder
Onion powder
Oregano
Mozzarella cheese
Parmesan cheese
Tomato sauce
Pepperoni (optional)
Francese Pan Pizza Recipe
Instructions:
Now that you have all of your ingredients, let's get started!
Preheat the oven to 375 degrees Fahrenheit.
Roll out the pizza dough on a lightly floured surface and transfer it to a greased 10-inch round pizza pan. Use a fork to poke holes in the dough to avoid air bubbles.
Drizzle with olive oil, then sprinkle garlic powder, onion powder, and oregano over the dough.
Top with a layer of mozzarella cheese and Parmesan cheese, followed by a light layer of tomato sauce.
Add your favorite toppings, such as pepperoni (optional).
Bake in preheated oven for 15-20 minutes or until cheese and crust are golden brown.
Let cool for 5 minutes before slicing and serving.
Enjoy! This Francese pan pizza recipe is sure to be a hit with the whole family. It's a delicious way to enjoy pizza night! Pronto Pizza and restaurant hope you enjoy it as much as my family does. Enjoy!
Frequently Ask Questions (FAQs)
What is Francaise sauce made of?
Francaise sauce is a classic French egg-based sauce made with butter, white wine, lemon juice and an optional splash of heavy cream. It usually contains shallots or finely chopped onions in addition to the other ingredients. The egg yolks are added to thicken the sauce and give it a creamy texture. This sauce is often served over poached eggs, vegetables, and poultry dishes. It is also used to enhance the flavor of fish and seafood dishes.
What is the difference between Francese and piccata?
Francese and piccata are both classic Italian sauces, but there is a big difference between the two. Francese is an egg-based sauce made with butter, white wine, and lemon juice while piccata is a lemony sauce made with butter, capers, and white wine. Piccata tends to be more acidic and tart while Francese is more buttery and creamy. Both sauces are delicious and served over poultry, fish, or vegetables.
Why is it called Chicken Francese?
Chicken Francese, or "French-style chicken" as it is sometimes called, is a dish of sautéed or pan-fried chicken breasts in a lemon butter sauce made with white wine. It gets its name from the French word for egg (oeuf) which is used to make this sauce. Chicken Francese is a classic Italian-American dish that is sure to please.